*We may earn a commission for purchases made using our links.  Please see out disclosure to learn more.
What makes a stroller the "best luxury stroller" you ask?  Well, luxury strollers are more than just lavish or ornamental pushchairs. They represent the peak of functionality, superior build quality, and use of high-end materials. The "cream of the crop" offers flexibility, a myriad of features, and seamless maneuverability for a transformative strolling experience. Brands like UPPABaby, Bugaboo, and Cybex Provide an impressive lineup of luxurious strollers.
These upscale pushchairs boast premium build quality, elegant designs, and a first-class experience, encapsulated in the overall ergonomic finishing and use of rare, high-end materials like PU leather, cushioned seats, and lightweight aluminum. The seats, wheels, handlebars, and storage baskets are brilliantly crafted to provide a premium experience, and many offer a price tag to match, costing $1000 and more.
Whether you're after the lightweight flexibility of Bugaboo Lynx or the double-stroller convenience of UPPAbaby VISTA V2, the market for luxury strollers in 2023 is as diverse as it is dynamic. With this guide, we hope you find the perfect luxury stroller that matches your lifestyle and provides your little ones with the comfort they deserve.
Here, we will present the best luxury strollers of 2023 that seamlessly combine functionality and style.
Silver Cross Wave 2023
Silver-Cross-Wave-2023 This newest release from the highly esteemed British brand, Silver Cross, is a versatile and stylish luxury stroller. The Silver Cross Wave 2023 is designed with a sophisticated aesthetic and excellent performance in mind, boasting numerous configurations and excellent compatibility with car seats and bassinets.
Why We Love It
Versatile and Configurable:  The Silver Cross Wave 2023 is highly versatile with over 30 different configurations. This makes it an excellent option for growing families or parents with twins. It can be easily converted from a single to a double stroller, and it's compatible with several brands of infant car seats.

Sophisticated Design:  The design of the Wave 2023 speaks to the quality and elegance of the Silver Cross brand. It comes in a variety of tasteful colors, each adorned with high-quality, hand-stitched leatherette details.
Sturdy and Durable:  Constructed with a robust yet lightweight aluminum frame, the Wave 2023 is designed to last. It features high-quality, puncture-proof tires that make for smooth rides across various terrains.
All-Terrain Suspension:  Thanks to its innovative four-wheel suspension, this luxury stroller provides a smooth ride over various terrains, making it perfect for both city and country living.
High Capacity Basket:  The Silver Cross Wave 2023 has a large, easily accessible storage basket that can hold up to 33 lbs. This gives you plenty of space for all your baby's necessities and your shopping too!
Things That Bother
Large and Heavy:  Given its size and robustness, the Wave 2023 can be quite heavy and difficult to carry. It may not be the best choice if you need to frequently navigate narrow city streets, public transportation, or stairs.
The Fold is Bulky:  While the Wave 2023 is easy to fold, the folded configuration is somewhat bulky and may require considerable storage space in your trunk or at home.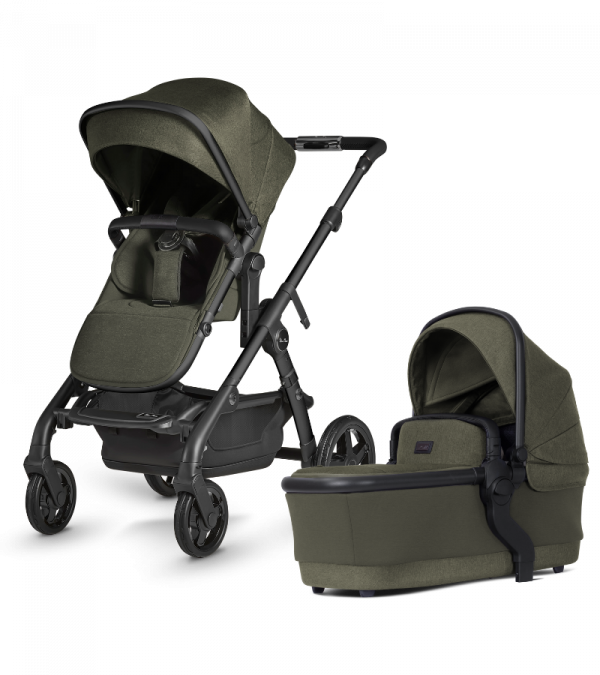 Cybex Priam3 Complete Stroller
Cybex-Priam3-Complete-Stroller German-engineered for maximum comfort and style, the Cybex Priam3 is a luxury stroller that embodies both form and function. It features a robust, all-terrain design and multiple configurations, all while maintaining a sleek, modern aesthetic.
Why We Love It
Premium Design:  The Cybex Priam3 is designed with a modern aesthetic in mind. It comes in multiple color options and boasts premium, high-quality fabric. It's stylish, sleek, and sure to turn heads.
Robust All-Terrain Wheels:  This stroller is equipped with large, rubber foam-filled wheels that handle well on various terrains, making it perfect for both urban and suburban families.
Easy to Maneuver:  Despite its sturdy build, the Priam3 is easy to maneuver, thanks to its swivel front wheels and adjustable handlebar.
Reversible Seat:  The seat of the Priam3 can be both reclined and reversed, providing comfort and versatility for your child. Convenient One-Hand Fold: One of the most remarkable features of the Priam3 is it's easy, one-hand fold. With just one motion, the stroller can be folded into a compact, self-standing unit, perfect for city dwellers or for traveling families.
Things that Bother
Expensive:  The Cybex Priam3 is on the high end of the price spectrum for strollers. While it offers a range of high-quality features and top-notch design, it may not fit into all budgets.
Limited Storage:  Despite its larger size, the storage basket on the Priam3 is somewhat small compared to other strollers in its class. If you plan to do a lot of shopping or carry numerous baby essentials, this may pose a challenge.
UPPAbaby Vista V2 Stroller
The UPPAbaby Vista V2 stroller is a popular choice for families who need a stroller that can grow with them. This luxury stroller is not just stylish but also versatile and easy to use.
Why We Love It
Versatile:  The UPPAbaby Vista V2 can be used as a single stroller or, with the addition of a second seat, as a double stroller. It also works seamlessly with the UPPAbaby Mesa car seat for easy travel.
High-quality Materials:  This stroller is built with premium, durable materials that can stand the test of time. The fabrics are removable and machine washable, which is a huge plus for parents dealing with spills and stains.
Smooth Ride:  The UPPAbaby Vista V2 offers a smooth and comfortable ride for your child. It features shock-absorbing front and rear suspension, ensuring your baby will not be jostled by bumpy sidewalks or uneven terrain.
Spacious Storage Basket:  The Vista V2 comes with a large storage basket that can hold up to 30 lbs. This is perfect for carrying a diaper bag, groceries, or other necessities.
Things That Bother
Bulky:  The Vista V2 is relatively large, even when folded. This might make it difficult to transport or store in smaller spaces.
Expensive:  As with most luxury strollers, the Vista V2 comes with a hefty price tag. While it offers top-notch features and quality, this may not be the best option for families on a tighter budget.
Mima Xari Stroller
Mima-Xari-Stroller known for its futuristic design and luxurious comfort, the Mima Xari Stroller is a statement piece. Beyond its stylish looks, this stroller offers practical functionality that parents will appreciate.
Why We Love It
Unique Design:  The Mima Xari Stroller is truly a head-turner. Its unique design sets it apart from the crowd. 
Comfortable:  The Mima Xari is designed with your child's comfort in mind. It features a three-position reclining seat and two-height canopy to accommodate growing children. 
Compact Fold:  Despite its large size, the Mima Xari stroller folds down compactly, making it easier to transport and store. 
Things That Bother
Heavy:  The Mima Xari is quite heavy compared to other strollers. This can make it difficult to carry up and down stairs or load into a vehicle. 
Expensive:  With its unique design and luxury features, the Mima Xari comes with a high price tag. While the cost may be worth it for some, it's certainly a significant investment.
Bugaboo Fox 5 Stroller
Bugaboo-Fox5-Stroller is a well-established brand in the luxury stroller market, and the Fox5 is one of their best offerings. It's a sleek, sturdy, and versatile stroller that's designed for maximum comfort and ease of use.
Why We Love It
High Maneuverability:  The Fox5 is incredibly easy to push and steer, even with one hand. It's also designed to handle a variety of terrains, making it a good choice for city or country living.
Customizable:  The Bugaboo Fox5 comes with a range of customizable options, allowing you to choose your preferred fabric colors and frame.
Lightweight:  Despite its size and robustness, the Fox5 is relatively lightweight. This makes it easier to transport and handle.
Compact Fold:  The stroller folds into a compact, self-standing size for easy storage and transport.
Things That Bother
Pricey:  The Bugaboo Fox5 is one of the most expensive strollers on the market. While it's packed with features, its price tag might not fit all budgets.
Not Ideal for Jogging:  Despite its many features, the Fox5 is not designed as a jogging stroller. If you're looking for a luxury stroller that can handle more rigorous activity, this may not be the right fit.
Conclusion
In conclusion, choosing the best luxury stroller for your child ultimately depends on your specific needs, lifestyle, and budget. From sleek designs to robust functionality, each of the strollers mentioned above offers unique features that cater to different parenting styles and preferences. Buying a luxury stroller is a significant investment, but it can also be a worthwhile one.
However, we understand that these luxury strollers might not fit everyone's budget. If you're looking for high-quality options that are a bit more budget-friendly, you can check out our post on The Most Expensive Strollers which offers a blend of luxury and affordability.
Just remember to consider all of the above factors to ensure you choose the best luxury stroller for your needs. After all, the comfort and safety of your child is paramount, and these strollers are designed to deliver just that, in style.